On December 5, 2022, the Hastings City Council meeting started off with a moment of silence honoring two longtime Hastings residents that gave all they could to the community they loved -Kevin Hoeschen, who was known by many as the downtown car show founder and the town cobbler at his repair store downtown, and First Sergeant Dean Markuson, known for his dedication to providing as much support as possible to veterans and the communities that support them.
Hoeschen passed away Nov. 27, and Markuson on Dec. 2. Both left their marks on Hastings in their own way.
Kevin Hoeschen
Hoeschen played a key role in the creation of the Saturday Evening Cruise-ins as the founder and coordinator. He was a longtime president of the Downtown Business Association. He was his local union's president for many years and he served on many committee boards for various organizations, including the Hastings United Way from 2010-2014.
"Kevin helped the United Way of Hastings not only with his steady, reliable leadership on the board, he was a key volunteer outside of his board member role," said Mari Mellick from the United Way of Hastings. "Kevin helped at the annual meetings and was a big part of the Project Share fundraiser with the Hastings Hockey Boys. Kevin also provided great insight to the UWH board as a small business owner."
"I have known Kevin pretty much since I opened 18 plus years ago," explained Busted Nut Owner Tatia Nelson. "I got to know him through the DBA meetings at Professor Java's and then we started within a year having the car shows. Car clubs reached out to us and were wanting to have shows in downtown Hastings, and he was not taking no for an answer. This was why I connected with him.
"He was driven to do what needed to be done. I helped with this process as did my husband Phil, Tony Berens and Kevin's wife Lynn. There was about five of us always working events to promote downtown. Plus, we all had family and friends that stepped up the day of all of our events if not before or after," said Nelson.
Hoeschen had set up some very unique car shows for the cruise-ins including a 'History of Cars' on August 22, 2015.
"We did a parade through downtown of cars from 19001970 and a car from each year," added Nelson. "Unfortunately, someone hit a power pole by the Point a few hours before and took out all power in downtown area so a lot of places did what they could, but it definitely changed the feel of event on a very hot day. All the work put into this event by Kevin was insane."
In an effort to support the various public services such as Police, Fire and EMS, Hoeschen arranged for visits from the State Patrol Helicopter for both car shows and public service nights and the car show did military nights.
One thing was very clear, Hoeschen had a passion for having the businesses around him thrive, a trait current DBA president Nelson said she values from her mentor. Hoeschen served as the Downtown Business Association President prior to Nelson for 10 years. Along with helping promote and improve downtown businesses, Hoeschen worked on the new Mississippi River bridge project with the City of Hastings and the Minnesota Department of Transportation.
Hoeschen was instrumental in helping rebuild the downtown area to what it is today for residents from all over the region to enjoy, and he passed that passion on to many others.
Dean Markuson
First Sergeant Dean Markuson dedicated his life to his country through his 20 years of active duty in the US Army where he spent time deployed in Vietnam, Korea and Germany between 1970 and 1990. He followed that up with service to his community through countless years of volunteer and charitable work in Hastings and the surrounding communities. It all led back to one cause, the support of US Veterans when they need us most, their return to civilian life. To Markuson, supporting his fellow Veterans was his "duty and obligation," he needed to be there for Veterans to tell their stories.
Markuson, like Hoeschen, was an active volunteer with the United Way of Hastings, a natural fit for Markuson since he started the Hastings Chapter of Beyond the Yellow Ribbon in 2009, and UWH was the fiscal agent for BYR until the Hastings and Cottage Grove chapters merged in 2019.
Markuson not only helped the United Way, but he also embodied their motto of LIVE UNITED. Markuson went through a bunch of the Live United T-Shirts over the years, making the cut for the 2011 Calendar of 12 Hastings Heroes.
Mayor Mary Fasbender explained how she knew of Markuson prior to being elected, but got to know him in 2018.
"I met Dean in 2018 at a home during National Night Out," said Fasbender. "After winning my seat as mayor, Dean frequented my office. He approached me, always with a suggestion or comment in how veterans need to be appreciated more. I learned continually from Dean as to what a veteran really is. My love for the military families has grown because of Dean. He mainly taught me that every day should be Veterans Day. He was a selfless giver, who truly walked in the hands and feet of the Lord. Dean made a difference in our community. His heart was bigger than life. He served this community in many ways and will be missed!"
Markuson had always felt the calling to serve people. His primary mission was to provide aid and assistance to others. He did that through organizations such as the VFW, United Way of Hastings, Total Life Center and his own non-profit, Foss and Swanson Veterans.
Lou Plevell, a current Post 1210 VFW member recounts Markuson's commitment to service.
"I first met Dean in June 2009 upon my retirement from the US Army and relocating back to Hastings. Dean recruited me as a member of VFW Post 1210 and to assist him as the Director of the Hastings' Beyond the Yellow Ribbon Program. What impressed me most about Dean was his heartfelt passion in assisting our local Veterans and telling their stories as well as his," he said. "I believe Dean's story is a simple one, but one that carries a powerful message that deserves to be told. It is a story of service, commitment, community and overcoming personal challenges. Upon retiring from military service, he never stopped serving. He made a positive impact on our community and helped it grow and improve. Helping Veterans while promoting the local community was his life's passion. He was totally engaged and committed to improving the quality of life for Veterans within the area.
"Despite Dean being a disabled Veteran with serious health conditions, he was often seen shoveling snow, mowing lawns and cleaning the gutters for the families of deployed service members. Dean assisted veterans with car repairs so they could get to work. He helped find shelter and feed several homeless veterans. Dean often accomplished this by utilizing his own funds without any expectation of repayment. His efforts truly reflect his passion to assist and improve the quality of life of our veterans."
Markuson was the founder of the Hastings Chapter of the Beyond the Yellow Ribbon initiative.
"His focus and determination were the driving force in Hastings achieving a Beyond the Yellow Community status in 2009. He established a large and extremely effective network of Veteran support and resources throughout the community. His efforts directly contributed to creating a more veteran friendly and socially aware community and aided and assisted countless Veterans and their families," said Plevell. "Dean was also an extremely dedicated member of the VFW. He held numerous leadership positions to include Post 1210 Commander and MN VFW second District Commander, both were positions which Dean was extremely proud to have held. He was particularly proud to have achieved "All American" status while serving as the SecondDistrict Commander. He worked countless hours for the betterment of the Post."
Markuson received the "Seven Seals Award" from Employer Support to the Guard and Reserves and was honored with a "Spirit of Hasting" Award for his commitment to community.
On the lighter side of Markuson's service, he was an active communicator, even when his messages were not always the clearest, he made sure to get his message out as described by Tom Wright.
"Hastings lost a great one. Dean was a big-hearted Vietnam veteran who served both his country and this community very well. If you worked in the local media, you know he also served emails very well. Maybe too well. If you were added to Dean's contact list your inbox very likely increased by 20 percent, at least. Mo McNeary and I jokingly awarded him the 'Emailer of the Year' award on our Talk of the Town show. Dean was such a great sport about it, even showing up at the studio to do a staged photo for the award. He was known for making surprise visits too. You knew when you saw Dean walk in the door your next 20 minutes just got booked," said Wright. "But it was very endearing. It was all done for good reasons. It was Dean. He advocated for many military related events and causes."
"He never quit. His big heart would never allow him to," said Wright.
The impact Markuson had on the community will continue thanks to his generosity, especially around the building located at 507 Vermillion St. Markuson purchased the building to be used as the Foss and Swanson Community Center. His plan was to have a meeting space for community members to use as needed with the focus being on veterans. The building piece came together for a few years, but the community center did not take off as he had hoped. That is when he found a greater calling for the space. Rise Up Recovery was looking for a permanent home in Hastings and Markuson made the move. He donated the building to the cause. Rise Up Recovery released the below statement on social media following the passing of Markuson.
"We mourn the loss of Army First Sergeant Dean Markuson, who was one of our biggest supporters and our friend. Dean was a veteran, philanthropist and devout follower of Christ who gave his life in service of God, country and community. He had a huge heart for serving veterans, the local Hastings community and nonprofit organizations. One year ago, he and wife Shirley generously donated the building located at 507 Vermillion Street to be used as our community center and offices. Dean leaves behind a rich legacy of service and generosity that will continue to impact lives for generations. A real hero in our books. Our condolences and prayers go out to the Markuson family."
Services for Kevin Hoeschen have already taken place, and services for Dean Markuson are scheduled for 10 a.m. Thursday, Dec. 15 at the Starkson Family Life Celebration Chapel, with visitation at 9 a.m. His full obituary is on page 7 of this edition of the Hastings Journal.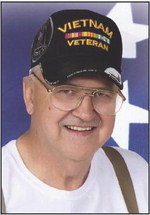 Dean Markuson