Dakota County welcomes return of bison to prairie
Dakota County celebrated the reintroduction of American plains bison to Spring Lake Park Reserve in a welcoming event Friday, Nov. 4.
County officials, bison experts, Indigenous leaders, legislators and community partners gathered to mark the return of bison to the park's prairie, where they will help to manage and diversify roughly 150 acres of the park near Hastings and Rosemount.
The bison roam within large, fenced paddocks to ensure the wellbeing of the animals as well as the safety of park visitors. Bison graze primarily on grasses, allowing wildflowers to thrive. Their movement also contributes to new plant growth by pushing seeds into the soil.
Dakota County is the first county in Minnesota to reintroduce bison to prairie. Seven bison are on the prairie, and the county's herd may grow to about 15 animals.
"The return of bison to the prairieland of Dakota County is a terrific natural resources success story," said Dakota County Commissioner Mike Slavik, whose district includes the park. "The bison will help improve the prairie ecosystem, and the sight of these animals roaming the land will be stunning for visitors to Spring Lake Park Reserve."
The project was made possible with a $560,000 Minnesota Environment and Natural Resources Trust Fund grant. The grant was recommended by the Legislative-Citizen Commission on Minnesota Resources and approved by state lawmakers. The bison project also was supported with about $851,000 in state bonding.
This fall and winter, the bison are in an area of the park less visible to park visitors and those walking or biking along the Mississippi River Greenway, which winds through the prairie. That will help to establish the herd and to acclimate them to their new home. Park and greenway visitors can look forward to opportunities to view and learn about the bison in the park beginning in the spring.
Bison have a strong historical and cultural connection to Indigenous people of the plains. Dakota County received support from the Tribal Historical Preservation Office of the Upper Sioux Community as the project was developed. The county is developing new partnerships with the Prairie Island Indian Community and the Shakopee Mdewakanton Sioux Community through the bison reintroduction.
The county is partnering with the Minnesota Bison Conservation Herd, which includes the Minnesota Department of Natural Resources, the Minnesota Zoo and the Zollman Zoo to establish a statewide herd of 500 genetically diverse bison.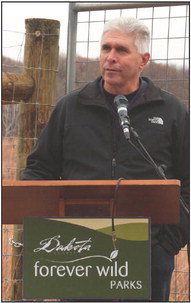 Dakota County Commissioner Joe Atkins speaks during the bison welcoming event Friday, Nov. 4 at Spring Lake Park Reserve. Photo courtesy of Dakota County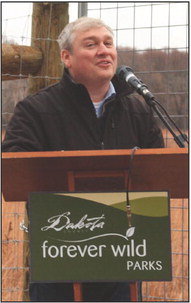 Dakota County Commissioner Mike Slavik addresses guests at a bison welcoming event Friday, Nov. 4 at Spring Lake Park Reserve. Photo courtesy of Dakota County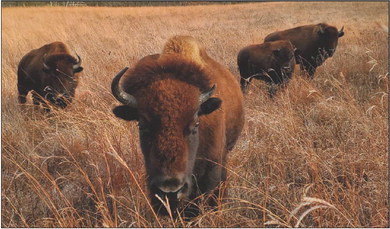 Bison on Dakota County's Spring Lake Park Reserve Bison Prairie. Photo courtesy of Dakota County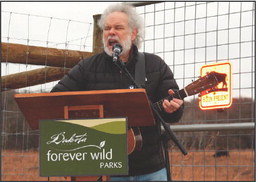 Folk musician John Gorka performs a song written to commemorate the reintroduction of the American plains bison to Dakota County prairieland. Dakota County photo