Trees around town scheduled for removal
By Brooke Shepherd
The population of the emerald ash borer (EAB) in Hastings has grown rapidly, according to local experts. This invasive species feeds on ash trees and has no natural predators, putting about 22% of the trees in town at risk.
EAB is a woodboring beetle from Asia that was first found in Hastings in 2016, according to TJ Lucas, the city forester. Lucas said the EAB population is larger than ever in Hastings, and he already has close to 50 trees scheduled for removal.
Ryan Spencer is the municipal consultant arborist for Rainbow Tree Care. They provide tree services across the Twin Cities metro area, and are the preferred vendor for Hastings, meaning that they have a contract to give residents a citywide discount.
"Hastings, much like the rest of the metro areas that are infested right now, continues to deteriorate," said Spencer.
See ASH BORER, Page 5 "Every year you're going to see more and more dead trees and the condition getting worse. That's what we're seeing across the board."
Spencer said ash trees in North America have no natural defense against the invasive beetle, so trees that aren't treated will eventually die as larvae hatch under the bark and eat away at the trees living tissue, emerging each spring to mate and repeat the cycle. He said EAB can quickly overwhelm a group of untreated trees.
As many as one in five trees are a species of ash across the surrounding areas of the Twin Cities, according to Spencer. Ash trees grew in popularity after the spread of an invasive fungal pathogen back in the 60s and 70s that took out many elm species. Ash is typically chosen due to its tolerant nature of compact soil and harsh city conditions. They provide many benefits, such as oxygen production, shade, blocking wind and, in some cases, increasing property values.
"I'm in regular contact with city foresters and other city employees who are reporting that this is really their worst year yet," said Spencer. "Even cities off to the west of the metro are starting to get their first EAB finds. Things are getting severe quicker due to exponential reproduction."
Treatment involves injections of insecticide every two to three years. The chemical doesn't appear to negatively affect the tree unless water becomes unavailable, according to Lucas. He said that currently, chemical options work much better than natural alternatives, which have not shown to be effective when tested.
"Watering your trees before and after treatment is really important," said Lucas. "About one inch of water per week will help to prevent the tree from entering a state of phytotoxic shock."
Ash trees that become too infested for treatment must be removed. Lucas said he can provide homeowners with information on which trees to plant if they do have to remove a tree. He said genetic diversity plays an important role in prevention of largescale loss.
"We want that diversity in case another insect or disease comes through," said Lucas. "That way, we don't get so much of our population wiped out."
Once cut down, the wood is taken to a grinding facility where it is turned into woodchips and mostly used for fuel. The city has applied for a grant through a nonprofit program called Tree Trust to get replacement trees.
"We have yet to hear back if we are approved," said Lucas. "We're hoping we can get that done, otherwise it's actually on the homeowners to replace the trees on the boulevard."
Rainbow Tree Care's data from last year found that 614 trees were treated in Hastings for EAB. That's an increase from the 442 treated in 2020. Spencer said that for every tree treated, there are several that are not. Treatment is most effective before the infestation is severe.
"We will eventually recover from this, we've seen this kind of widespread urban tree death before with Dutch elm disease decades ago, but I think the big thing to know is for homeowners, there's affordable options to protect their tree," said Spencer. "There's a safe and effective treatment, much cheaper than removing a tree."
The city forester or Rainbow Tree Care will do property evaluations free of charge to help homeowners identify ash trees and discuss their options. The city website contains an abundance of information related to EAB, treatment options, as well as how to identify an ash tree. This information is also on the Rainbow Tree Care website. For the city information, visit https://www.hastingsmn.gov/residents/myhome/ forestry/emeraldashborer. For Rainbow Tree Care information, visit: https://www.rainbowtreecare.com/emeraldashborer/ citypartnerships/hastings/.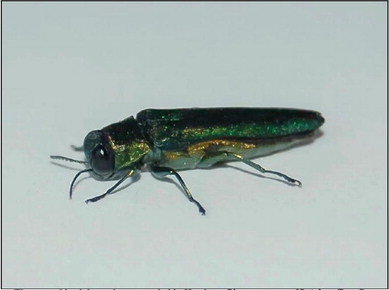 The emerald ash borer has expanded in Hastings. Photo courtesy of Rainbow Tree Care