Shows runs February 3-11 at the Hastings Arts Center – just ahead of Valentine's Day
Following the triumphant return to the stage with "Newsies!" in 2022, Black Dirt Theater is thrilled to continue bringing dynamic, lively and fresh theater to Hastings. Up next from the organization is an all-new dinner theater experience at the beautiful Hastings Arts Center, with catering provided by Ideal Catering by Hastings Golf Club & Events.
"We were sad to hear The Onion Grille was closing," said Black Dirt Theater board Vice President Thomas Bonneville, "Black Dirt Theater and The Onion Grille shared a great partnership for the past 10 years in providing the community with a fantastic dinner theater experience, and we wish Wendy and everyone at The Onion Grille the very best!"
The new production "I Love You, You're Perfect, Now Change" was decided months before The Onion Grille announced its closing, so Black Dirt Theater set out to find another venue to host dinner theater. "Black Dirt Theater has always been good at pivoting, and we've enjoyed residency in a number of locations around Hastings, including the Leduc Mansion, and The Historic City Hall." Bonneville continued, "The Hastings Arts Center has been hosting our Improv troupe for a few years, and of course the space is acoustically wonderful, so we reached out to the Lockwoods and secured it for dinner theater."
Soon afterwards, it was decided Ideal Catering by Hastings Golf Club & Events, (Home of the Hastings Public House) would provide the food for the evening shows. To offer a reduced-price ticket for the matinee on February 5th, a dessert-only option will be provided.
This production features an all-new director to Black Dirt Theater; Christian Unser. Christian is thrilled to be making his directorial debut with Black Dirt Theater's production of 'I Love You, You're Perfect, Now Change'. Christian has been performing as an actor and vocal director in the Twin Cities for almost 23 years. He has been seen on-stage primarily with Minneapolis Musical Theatre, where he also served as Artistic Director for four seasons, producing critically acclaimed musicals like 'Leap of Faith', 'The Toxic Avenger' as well as 'High Fidelity' inside the Electric Fetus record store. He is grateful to Black Dirt for giving him a chance to work on this fun show with a fantastic cast and crew. And he sends all of his love to his wife Jen and children Gabe and Hannah for their unending support of his creative endeavors.
Returning as Musical Director for this production is (none-other than) Black Dirt Theater board President Ryan McCoy. When not running the board, managing Improv and music directing dinner theater, McCoy teaches private music lessons at Blessings Academy of Arts & Music and directs the musicals and plays at Hastings Middle School.
Typically, this show is performed by a mere 4 players, but to provide a few more opportunities to our volunteer actors, Black Dirt has cast "I Love You, You're Perfect, Now Change!" with a fresh, young cast of 6 performers from Hastings and out of town. Sammi Penick, Rachel Schmidt, Katy Mac-Cutcheon, Sam Verdick, Connor Dean Burrell and Tom Kleis. While all three of our ladies are new to Black Dirt, our three men were last seen in the summer production of "Newsies!"
This HILARIOUS production will make the perfect 'date night,' 'girl's night' or simply a 'night out!!!" Guaranteed laughs, inappropriate jokes, relatable situations, tons of music and fantastic food. Don't miss your chance to see this award-winning musical! Tickets are going fast, so reserve your table today.
ABOUT THE SHOW:
"I Love You, You're Perfect, Now Change!" Book & Lyrics by Joe DiPietro. Music by Jimmy Roberts.
The second-longest running off-Broadway revue in history has been revised for the 21st century! This celebration of the mating game takes on the truths and myths behind that contemporary conundrum known as "the relationship." Through sketches and songs, Act I explores the journey from dating and waiting to love and marriage, while Act II reveals the agonies and triumphs of in-laws and newborns, trips in the family car and pick-up techniques of the geriatric set. This hilarious revue pays tribute to those who have loved and lost, to those who have fallen on their face at the portal of romance, to those who have dared to ask, "Say, what are you doing Saturday night?" The 2018 version features two new songs, revised lyrics and dialogue throughout the show to reflect dating in modern times.
Performances:
Friday, February 3rd, 8pm Show Time, 7pm Dinner Service Saturday, February 4th, 7pm Show Time, 6pm Dinner Service Sunday, February 5th, 2pm Matinee, 1pm Dessert Service Friday, February 10th, 8pm Show Time, 7pm Dinner Service Saturday, February 11th, 7pm Show Time, 6pm Dinner Service Venue:
THE HASTINGS ARTS CENTER 216 4th St E, Hastings, MN 55033
Tickets can be purchased by visiting www.BlackDirtTheater.com.
About BLACK DIRT THEATER:
Black Dirt Theater is a group of passionate people, who have a vision of the future where using creativity to serve others and create connections in the Hastings area become one in the same. Each day, Black Dirt Theater brings people together across audiences, casts, and throughout the community to empower people with everyday creativity.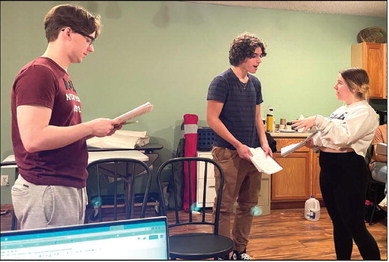 Katy MacCutcheon (right) and Tom Kleis (middle) exchange lines during rehearsal while Connor Dean Burrell waits for his turn to join the conversation. Photo submitted.