As the leaves turn colors and the weather gets chillier you can quite literally feel autumn coming. With the amazing things that this time of the year brings, one of the highlights is always Homecoming, regardless the age. This past week at Oak Ridge Assisted Living and Memory Care right here in Hastings, MN we celebrated Homecoming. I was shocked and awed by the engagement and participation from our residents and staff. Each day we had a dressup theme (just like the students of Hastings) and each day I was amazed by the creativity and enthusiasm our residents approached the theme with. The residents' favorite dress up themes were Wacky Wednesday, Pajama Day and, of course, Hastings Spirit day.
I talked with one of our residents, Shari Larson, and she said, "It was great watching people come up with ideas for each day's theme. Some people really cut loose, and it was great to see the energy throughout the building. I hope we were able to provide some inspiration…or at least some humor for the football team.'
Another one of our residents said that because she was homeschooled this was the first homecoming, she had EVER participated in, at the age of 77!
Throughout the week I heard many stories from the residents about their own Homecomings growing up. Many of our residents were Hastings graduates in the 50s, 60s and 70s, and their stories consisted of crowning homecoming royalty, going to the football game, socializing with peers and tossing a little toilet paper in a couple of trees.
These stories reminded me of my own homecoming and judging by the trees filled with toilet paper throughout the town, similar to today's students as well. Our youngest employee (21), our oldest resident (104) and everyone inbetween all came together to participate in a celebration of our community. This week taught me that Homecoming truly is a timeless tradition, and you're never too old to celebrate. You can check out all of our homecoming dress up day pictures as well as stay up to date with our other activities on our Facebook page OakRidgeSeniors.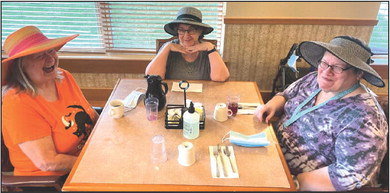 One of the themes was 'Hat Day'. These ladies are having a blast participating in their own Homecoming festivities to support the Raiders. Photo courtesy of Dan Freeman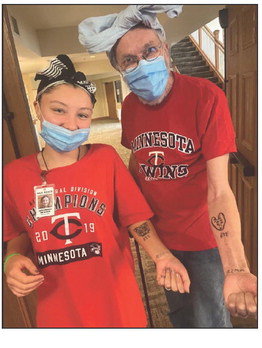 Residents and staff dressed up in support of their favorite sports teams and got fake tattoos as one of the themed days at Oak Ridge. Photo courtesy of Dan Freeman